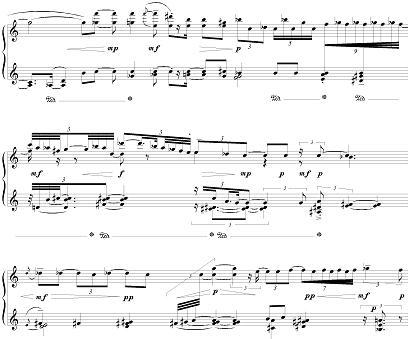 Copyist is music notation software that lets you create with ease tricky musical examples that more expensive and complicated programs trip over their feet trying to reproduce.
Because Copyist treats notes, staves, clefs and other musical symbols as graphical elements, you've got the freedom to put musical objects on the page regardless of musical rules. This freedom allows you to easily create small excerpts to be included in work that is predominantly text, as well as very complex scores which are difficult to create using software which must follow musical rules.
Copyist works with your existing QuickScore files, giving you the power to fine-tune any score created in our award-winning music composition software QuickScore Elite or QuickScore Elite Level II simply by saving your work as a Copyist file and loading it into Copyist.
Copyist lets you save your scores as .BMP, TIFF, .EMF or .EPS files so that you can incorporate them into your Microsoft Word, Corel WordPerfect, Corel Draw, Adobe Illustrator, Adobe PageMaker and many other types of documents with a few mouse clicks.
Feature List Overview: Unlimited staves • 5-line and single-line staves • 6, 5 and 4-string tablature staves for guitar, bass, banjo, ukulele, mandolin, bouzouki, pipa, etc. • Complete set of musical symbols including groupings, fingerings, articulations, slurs, repeats, crescendos, decrescendos, dynamics, line, circle and box drawing • All standard clefs including 5-line and single-line percussion clefs • Grace notes and cue notes • Configurable chord names, 6, 5 and 4-string tablature chord grids and figured bass • 4 and 7 shape note system note heads, drum note heads and other nonstandard note heads • Custom note heads • Complete guitar and harp symbol set • Complete handbell and percussion symbol set • Custom symbols • Import graphics • Complete control over placement of all symbols • Fully adjustable beam height and slant • Cross-staff and split beams • Unlimited voices per staff • Any number of lyrics in any font • Any amount of text for titles, composer, headers, footers, copyright in any font • Comprehensive set of editing commands including Cut, Copy, Paste, Move and Adjust • Multiple undo • High quality WYSIWYG TrueType music font included • High-quality printout on all Windows supported printers.
Copyist for Windows is just $99.95. If you own a copy of QuickScore Deluxe, Pro or Elite, or if you already own a version of Copyist, you qualify for the upgrade price of $49.95. QuickScore Elite and Copyist for Windows can be purchased together for the special price of $139.95. QuickScore Elite Level II and Copyist for Windows can be purchased together for the special price of $219.95.



Copyist for Windows is just $99.95. If you own a copy of QuickScore Deluxe, Pro or Elite, or if you already own a version of Copyist, you qualify for the upgrade price of $49.95. QuickScore Elite and Copyist for Windows can be purchased together for the special price of $139.95. QuickScore Elite Level II and Copyist for Windows can be purchased together for the special price of $219.95
Ordering, Upgrades and Specials
QuickScore Elite Level II 2019
Order Online

Upgrade Online